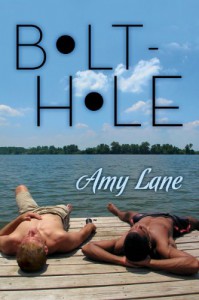 A friends-to-lovers romance between two young men trying to break into their careers.
Terrell Washington is black, gay, and unable to find a job with his college degree in journalism. He is also very bitter because of his lack of employment and events from his childhood. His best friend, coworker, and idol, Colby Meyers, is kind, fun, and seems to have the world on a plate, but he's white. Terrell must determine if he can accept Colby's apparent love for him.
This was a sweet, low-angst romance between two friends. The relationship develops while they are working together at a local restaurant. The loving sentiments that Colby expressed repeatedly were heart-warming. Watching Terrell finally believe that somebody could love him was beautiful. The time they spent together having fun and hanging out was also enjoyable.
Unfortunately, most of the humor didn't make any sense to me. There were also so many exclamation points that it made it feel like the characters were forever yelling excitedly. Terrell's constant reference to the fact that he was black and Colby was white became downright annoying. This story really needed Colby's POV to even out the negative mood created by Terrell and his insecurities. Understanding where Terrell came from and how he was raised, was critical to understanding the story, but it was repeated so often that it became the focal point of the story. The murder mystery was interesting as a backdrop to the story until the ending which went over the top and didn't quite make sense.
Overall, the romance was sweet and the mystery was acceptable as a backdrop to the plot, but the spirit of the story was just a bit too negative.
This review was originally written for The Romance Reviews. Copy provided by author in return for an honest review.